Archive for March, 2008

In this episode, we talk with Kevlin Henney about the C++ programming language. We look at the history and the culture of the language, and how it went through several phases in its evolution. We also take a look at some of the special language features of C++ and their overall influence.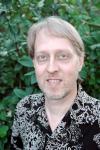 In this episode Charles Krueger, a well-known member of the product line engineering community, talks about his long term experiences in the field. Charles is also the founder and CEO of a company that provides tooling for variability management and product derivation. Besides some clarifications on terms like product line architecture and reference architecture, you also learn what kind of preconditions need to exist before product line engineering can be applied successfully.