Archive for January, 2009

In this episode we look at SUN's open source strategy for the OpenJDK. We discuss challenges in creating such a big open source project, and ways to keep it focused and organized. We discuss what it means for the Java runtime to be adopted as the technological foundation for other programming languages.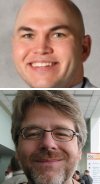 In this episode we discuss Microsoft's OSLO platform with Doug Purdy and Don Box. We briefly discuss what OSLO is in general and then look at the various components of OSLO. We also look at how OSLO fits in with the general Microsoft strategy and how it compares to other DSL/Model-driven approaches. We then look at language modularization and composition and discuss the similarities with XML and Smalltalk. Finally, we discuss possible integrations of OSLO with other MD* approaches and technologies.