Bernd
Bernd is working as an Architect for SAP AG in Walldorf. His main areas of working are Eclipse, OSGi and Modeling. Before he joined SAP, Bernd was working as an independent consultant in different domains from tooling for automotive embedded systems to enterprise Java applications.
Benrd is a regular speaker at various conferences and has written a number of articles in different magazines. In 2008 there has been a published a German book by dPunkt on OSGi which he have co-authored called "Die OSGi Service Platform.
Bernd's Latest Posts
In this episode we discuss the current state of the spring framework. We talk about core features (dependency injection, AOP) but also about the spring universe, i.e. some of the more specific frameworks such as Spring Batch.

In this episode we talk with Doug Simon from Sun Microsystems Laboratories about the Maxine Research VM, a so-called meta-circular virtual machine. Maxine is a JVM that is written itself in Java, but aims at taking JVM development to the next level while using highly integrated Java IDEs as development environments and running and debugging the VM itself directly from the Inspector, an IDE-like tool specialized for the Maxine VM. During the episode we talk about the basic ideas behind Maxine, what exactly "meta-circular" means and what makes it interesting and promising to build a Java VM in Java. We talk about the relationship to Sun's current production JVM (HotSpot) and about ideas and directions for the future of Maxine.

This episode is a discussion with Jim Des Rivieres about APIs: How to design good APIs, the role of the documentation/specification in APIs, API evolution and other relevant topics.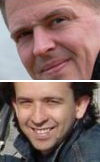 This is another episode recorded at OOP 2009, thanks to SIGS Datacom and programme chair Frances Paulisch for making this possible. Here is the abstract from the conference program: Many software systems have fragile architectures that are based on brittle assumptions or rigid architectures that reduce options and make change difficult. On the one hand, an architecture needs to be fit for the present day, suitable for immediate use, and on the other it needs to accommodate the future, absorbing reasonable uncertainty. However, an approach that is overly focused on today's needs and nothing more can create an inflexible architecture. An approach that becomes obsessed with possible future changes creates an overly complex architecture that is unfit for both today's and tomorrow's needs. Both approaches encourage an early descent into legacy for a system. The considerations presented in this talk reflect an approach that is more about thinking in the continuous present tense than just the present or the future tense. This includes principles from lean thinking, practices common in agile processes and techniques for loosely coupled design.

In the first part of this episode we discuss a couple of basics about SecondLife (scaling, partitioning, etc). The second part specifically looks at how the dev team tackled a number of interesting problems in the context of executing their own LSL scripting language on top of Mono.