Recording Venue: Skype
Guest(s): Bob Martin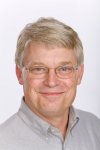 Host(s): Markus
This episode is a conversation with "Uncle Bob" Bob Martin about agile software development and software craftsmanship specifically. We talk about the history of the term, the reasons for coming up with it some of the practices and the relationship to other agile approaches. We conclude our discussion with an outlook on some of todays new and hyped programming languages.
Links:
Podcast: Play in new window | Download
Subscribe: Apple Podcasts | RSS
Tags: domain-driven design, release-cycle, rfid